TRULINE® Premium Pork
and Alltech team up at the
2004 World Pork Expo...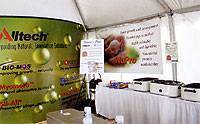 Alltech Sales Manager Russell Gilliam
with Truline's Everett Forkner

World Class Barbeque Crew, Jeff Kafka and
Jeff Wilkerson, prepared the
Truline® Premium Pork products.
Producers and consumers are taking the phrase 'we are what we eat' to heart more and more each day. In doing so, the ingredients fed to our animals must be of high quality and safe for the animal and consumer alike.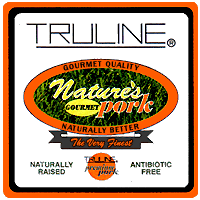 For over 23 years, Alltech has provided natural ingredients to pork producers around the world that are safe to the animal, consumer and the environment. Alltech's commitment to feed and food quality is also shared by TRULINE®, who produce and market TRULINE® Premium Pork. TRULINE® includes natural products from Alltech in order to provide you with the best quality meat produced under safe, healthy standards.
Truline Premium Pork and Alltech
safe & healthy to the animal, consumer and environment