CERTIFIED NATURAL
PRODUCTION PROGRAM
Requirements and Benefits
GENETICS
Truline Genetics has documented and proven its superior genetic lines for premium meat quality traits. The documentation of this superiority is the basis of the entire program and the opportunities if affords. This documentation is provided through national test comparisons and third party testing of a large number of progeny groups and genetic lines
Therefore, production must come from a total Truline breeding system. Truline Genetics makes recommendations to meet the goals of the optimum system and the demands of the ultimate consumer. These recommendations must be implemented by all Certified Production Herds. Truline Genetics is committed to the continued research and development of its genetic lines in order to maintain and enhance the program's mission.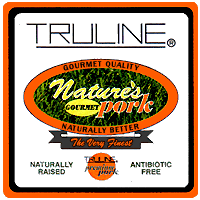 HEALTH
Certification for Pork Quality Assurance Level III requires the maintenance of a high health herd with strict biosecurity. Truline genetic lines have a naturally strong immune system affording high levels of health and natural immunity, with strong responses to vaccines. High levels of natural health allows for the removal of hormones, antibiotics, and animal by-products, in the feed source of the pig. Feed grade antibiotics are not allowed during the growing life of the pig.
A Herd Health Management Program and Herd Biosecurity Plan must be established in all Certified Herds.
NUTRITION
A certified level of nutrition is required to optimize genetic quality, lean gain, health and natural immunity. Products that could possibly impair color, taste, consistency or quality of this product are not to be fed. Truline Genetics recommends nutrition levels for all phases of production and will assist you in the production of natural fed, antibiotic free pork.
CARE AND MANAGEMENT
Recommended procedures of care, handling, and management must be followed. All good stockmen and pig producers realize that pigs respond positively to good care, gentle handling and attention. Buildings, feeders, water access and ventilation must be designed to eliminate stress or injury during the feeding period. Load-out facilities and procedures must be designed for minimal stress. Quality people, quality pigs and quality care are goals of this program.
Certified Herds must adhere to program requirements. Compliance is maintained through periodic inspection by a Truline representative. Any herd found in violation of any requirement will lose its certification status until program requirements are corrected and followed.
MARKET ASSISTANCE
Certified Herds that follow all program requirements will be included in Truline's marketing assistance program. It is Truline's firm conviction that a very strong market exists for a differentiated, consistent, certified premium pork product for export, restaurant service, domestic use and direct retail sales. All of the above are potential customers and consumers of Truline Premium Pork™.
All Truline producers currently participating in this marketing program have received premiums above their present marketing alternatives.
Truline Premium Pork™ is committed to the long-term development of the ultimate quality product designed and driven by the consumer!
Truline Premium Pork™ is actively exploring a number of other marketing alternatives.