OUR MISSION
To breed, produce and
market the world's
finest pork that is
high quality, delicious,
healthy and consistent.
"creating success...
...from pig to plate"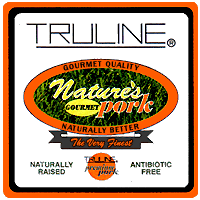 Over 45 years of bred-in quality, taste and tenderness from our unique, old line, purebred genetic lines, producing the "World's Finest Pork" with the very finest flavor. TRULINE® Premium Pork is a unique premium quality product... raised with special care under a strict code of health and husbandry! Tenderly grown and finished free from the feeding of antibiotics and animal by-products! A natural, premium product without hormones or preservatives, and with no water added. USDA inspected and identity
preserved directly from the farm to you! Experience the distinctive delicious natural flavor of TRULINE® Premium Pork! "Old Fashion Taste and Tenderness."
TRULINE Premium Pork markets two distinct quality levels of pork. The Premium label product is a superior premium quality product that is all natural, antibiotic free. The Gourmet label product is produces the same way, but from a specialty bred line that produces "The Very Finest" product available! TRUELINE Premium Pork provides products through direct retail and to the restaurant and institutional industries.
Testimonials

Hello Mr Forkner:

First of all, let me tell you the pork package arrived on Friday, 1/27/06. The product arrived in fine shape. Second, the pork chops are fantastic. There is no pork like your product sold in stores around this area-no marbling, just pink and dry when cooked. I had one of the chops on the day they arrived-juicy and tender. Your chops are the best I've eaten.

Also, the bacon is just great! There is a distinct difference in quality from most bacon sold in my area. I'm planning to order some of your brats as they sound like a real treat!!

You'll be hearing from me...
Best wishes,
Ben